To submit an ACF Chapter listing, you will need to register for an account first or login.
Can't find a local chapter? Would you like to start one? Contact us and someone from the ACF leadership team will be in touch with you soon. You don't have to do it alone!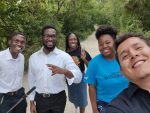 Chapter Description
Vision: To Foster Christ-centered relationships by serving the needs of our community
Mission: Create opportunities where our UTM community can build-up their relationship with
God and experience growth in all aspects of life.
Goals:
To build a Community -- A safe place where you are welcomed, accepted and have
caring friends.
To be a Place of Life-Changing Discovery -- A community where students will discover
and encounter Jesus personally.
To Serve the Campus -- To spread/share the love of Jesus by ministering to the needs of
our community (Needs final decision regarding spread vs share)
The core values of AVAD ACF are found in the following words.
Not looking to your own interests but each of you to the interests of the others. In your
relationships with one another, have the same mindset as Christ Jesus. -Philippians 2:4-5
AVAD means to work, to serve and to worship. These values underly all the activities of this ministry.
Send Message to listing owner